Wellness
Give your body and mind a moment of calm and rest, relax in our luxurious wellness. The sauna world offers perfect relaxation, warming up in three saunas followed by cooling in a cooling pool, a snow room or crushed ice. You can treat yourself to a luxurious body massage in the whirlpool. You can enjoy peace and relaxation with refreshments in the relaxation zones overlooking the historic building of the Border Chateau. For clients who are not fans of the sauna, we offer Cryosauna maintained at -120 ° C, but it is possible to reach up to -150 ° C.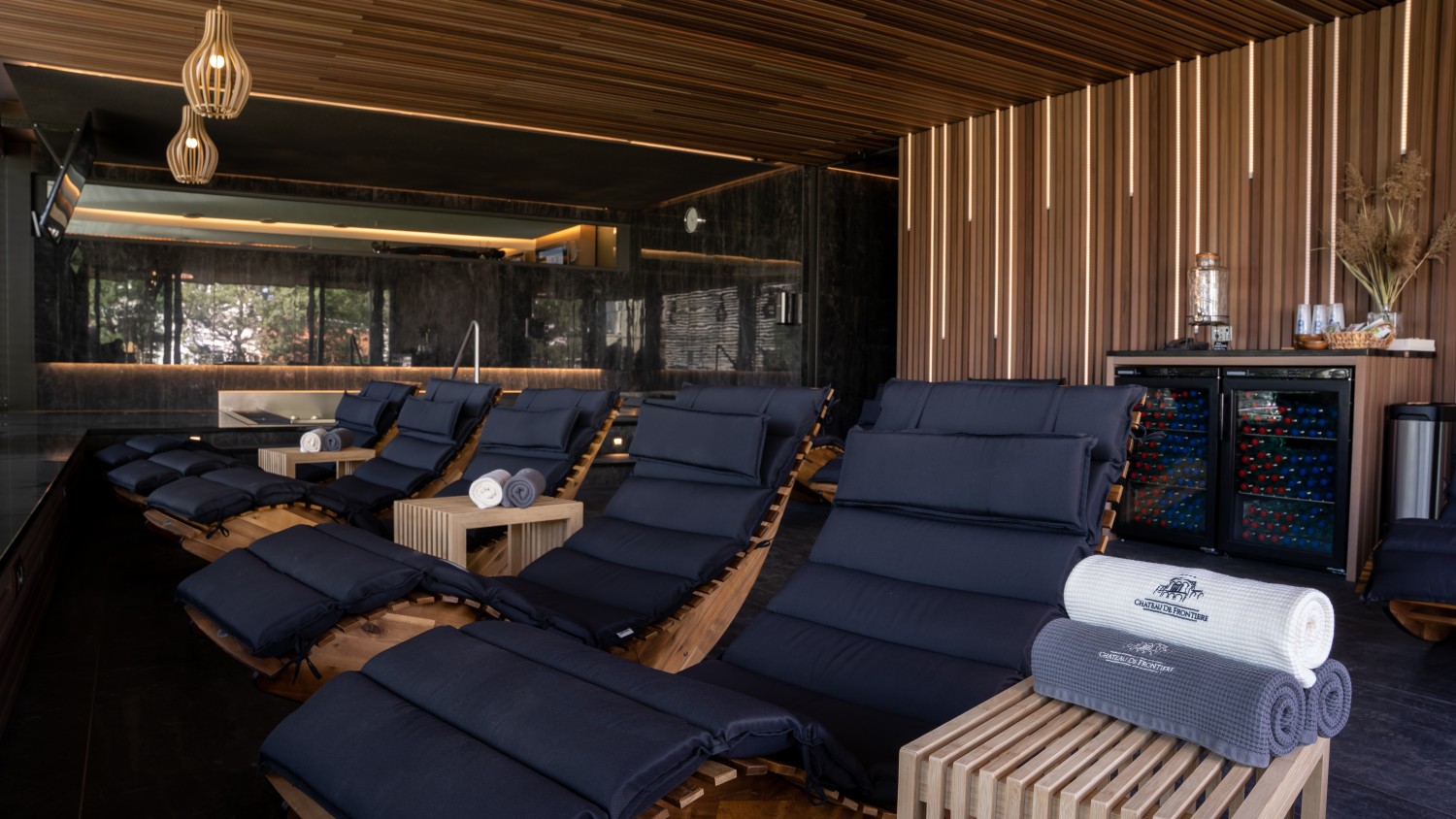 FINNISH SAUNA
Sauna is one of the oldest regenerations and relaxation methods. The combination of hot air with a minimum humidity and a temperature of approx. 90 °C warms the whole body to a depth, from which harmful toxins are flushed out through the skin. The length of stay in the sauna according to the individual feeling is 5-15 minutes. This is followed by a shower with cold or lukewarm water. It is also possible to use the cooling pool or crushed ice. We recommend 2-3 cycles.
SANARIUM
Sauna at a lower temperature of about 60 °C with higher humidity. A pleasant herbal aroma calms the mind and positively affects the mood. The length of stay in the sauna according to the individual feeling is 5-15 minutes.
AROMA STEAM BATH
Room with humidity 95 - 100% and temperature 40 - 45 °C. The aroma of the steam bath is sought after for its beneficial effect on the respiratory tract and skin, contributes to muscle regeneration and relieves overall fatigue.
SNOW ROOM
Perfect cooling with real snow. The cave is decorated with a snowy town and mountains. The recommended length of stay is 3 - 5 minutes.
CRYOSAUNA (POLARIUM)
Frost heals, has a very positive effect on the body, accelerates regeneration, solves skin problems, helps lose weight, relieves cellulite, strengthens immunity, improves mood. The duration of the procedure is 2-3 minutes. Subsequent warm-up in the cardio zone is recommended for 5-15 minutes. Many years of experience show that the number of repetitions needed for a more lasting effect, most often ranges from 10 to 20 visits in one series. These series can be completed several times (preferably two to three times) per year.
Wellness is open depending on hotel operation valid status every day from 16:00 to 21:30 o'clock. In order to maintain maximum comfort for your stay in our wellness area, the entry of children aged 6 – 15 is permitted only if they are accompanied by an adult on Saturday from 13:00 to 15:00 o'clock. Nevertheless, we believe that you will enjoy your stay with us to the fullest.